I thought I could embed the vid myself, but it does not seem like it. Oh wells.
Awww, thanks Prim for saying I have sparkle.
I will mention some Japanese historical stuff, so here is a run down on some of the different historical periods that will be mentioned.
Heian period 794 AD - 1185 AD
Sengoku period (Warring states period) 1467 AD - 1573 AD
Edo (or Tokugawa) period 1603 AD-1868AD
Taisho period 1912 AD - 1926 AD
Showa period 1926 AD - 1989 AD
Some basic rules of Kimono.
Black and some design somewhere on the kimono means extremely formal. Crests (sort of like white dot emblems) means formal. An all black kimono with no other colours is mourning wear.
The older a person is the more subdued in colours and design their outfits are. Ex: A formal outfit for a young woman: a long sleeved kimono, has really bright colours, and tons of pattern. A formal outfit for a 90 year old lady is a black kimono, with short sleeve panels and 2 small trees above the hem. It's sort of hard to tell at first, but after a while a person can see what outfits work for a young person and a mature person. (A young lady in a old lady's outfit is really easy for me to spot now. )
For more check out the previous post on the kimono display.
Matching the kimono motif with the current season is important.
The blanket term for hair ornaments is Kanzashi. There are several different kinds this wiki article will be helpful.
http://en.wikipedia.org/wiki/Kanzashi
The type I will be mentioning the most is Hana Kanzashi (Hana = flower).
Obi = sash
Some basics on the
sumptuary laws
. Merchants were among the the lowest class of citizens, yet as merchants grew wealthy they could afford more luxurious clothing then those of higher classes. (Merhcants were beneath peasants.) During the Edo period of Japan I think only Samurai were allowed to carry swords. In the anime series Mononoke, set in the Edo period of Japan, a merchant reveals he has a sword. Every time this happens, the people around him are usually shocked, since it's against the law for that character to carry a sword. (Yep that is right, I am gonna try and bring it back to anime.)
The previous post with
history of kimono
, explains much about the history of Kimono and how sumptuary laws affected kimono.
A big part of why I like learning about clothes, is that they are a reflection of the technology available a the time, and say a lot about what is expected of certain age groups, economic classes and even how important it is to show if you are married or not.
Many of the ensembles were put together by the
Toronto Kimono Club
. C contacted many people and asked them if they would be willing to lend pieces from their private collections.
As you can see from the pictures, many of them I could only get in the green room. Some of the other fashion show people don't have any personal pictures of themselves (I heard the heartbreak after the con). Because of this I would like to set up some kind of photo oppourtunity so stuff can be showcased at it's best.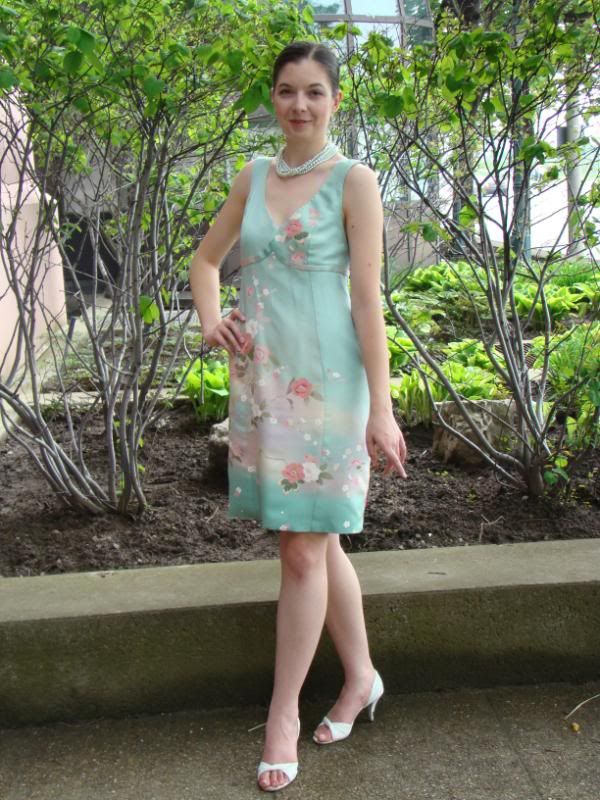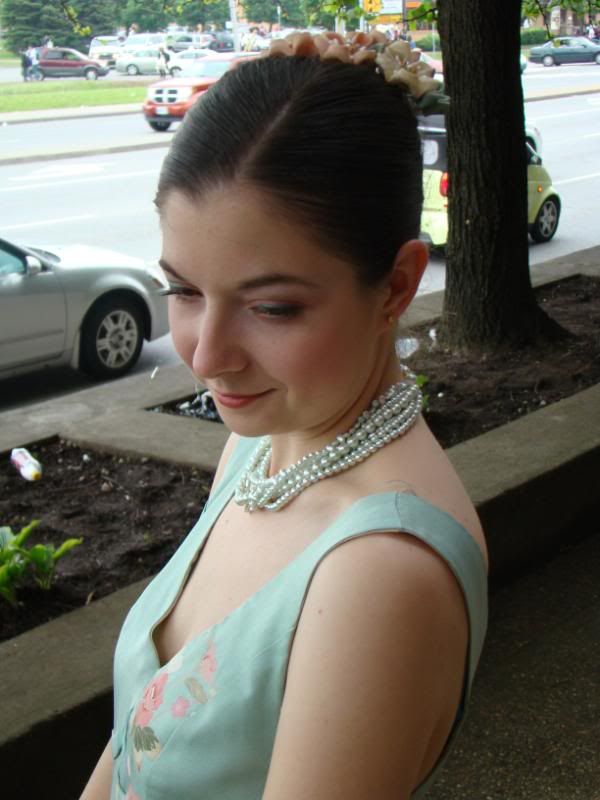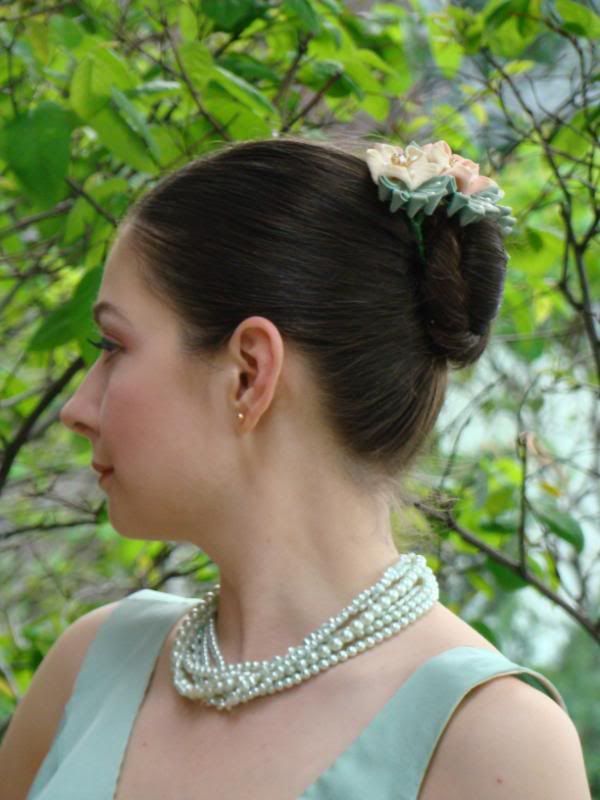 Western Dress made out of an old Kimono
Kimonos are made out of one bolt of fabric. It is basically a bolt cut into 4 panels and sewn together. Historically when kimonos were cleaned the seams would be ripped out and the 4 panels washed seperately and then the kimono would be sewn back together. If the kimono was unwearable, the fabric for the kimono could be reused for something else. (Many Kimonos taken from Japan after WWII were turned into drapes in the US).
Here is a cool site where there are purses made out of old kimono fabric.
Model C made the dress and the flower Kanzashi, which were also made out of the old kimono. Model C is the Kimono fashion show co-coordinator and she worked really hard making the show happen and on top of that making the kimono display in the gallery area of the con. She also made many of the flower kanzashi the models wear in the kimono fashion show.
Here is her site
http://www.etsy.com/shop/KurokamiKanzashi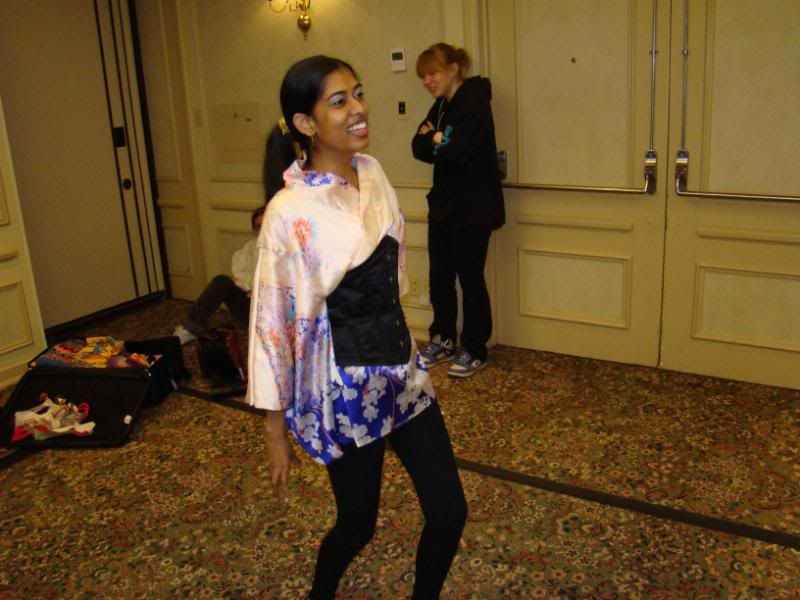 Repurposed child's kimono
This model is wearing a repurposed child's kimono with a corset and pants. Perfect outfit for a night on the town. Funny thing, the model bought a flower kanzashi to go with the outfit, and the co-coordinator picked the same hair kanzashi from her collection for the model to wear. Brain twins!!
I truly never would have thought of turning a child's outfit into a shirt. Looks so nice!!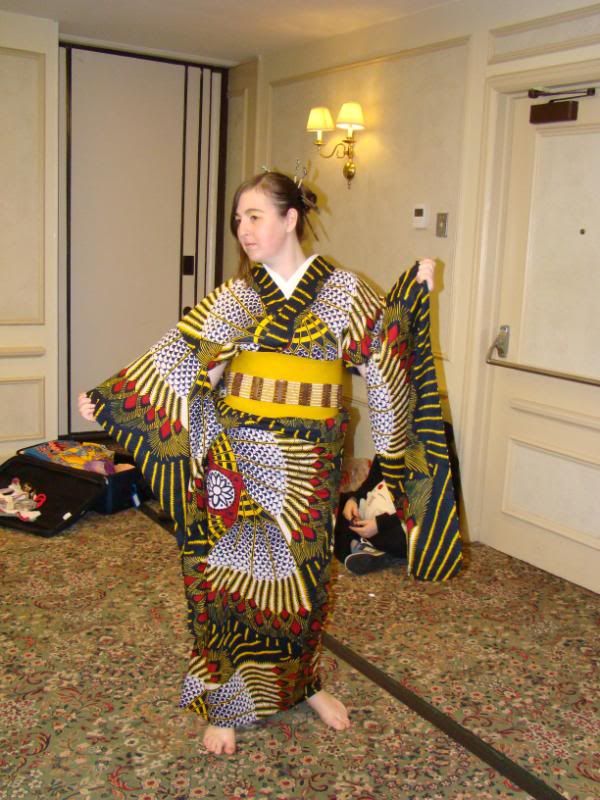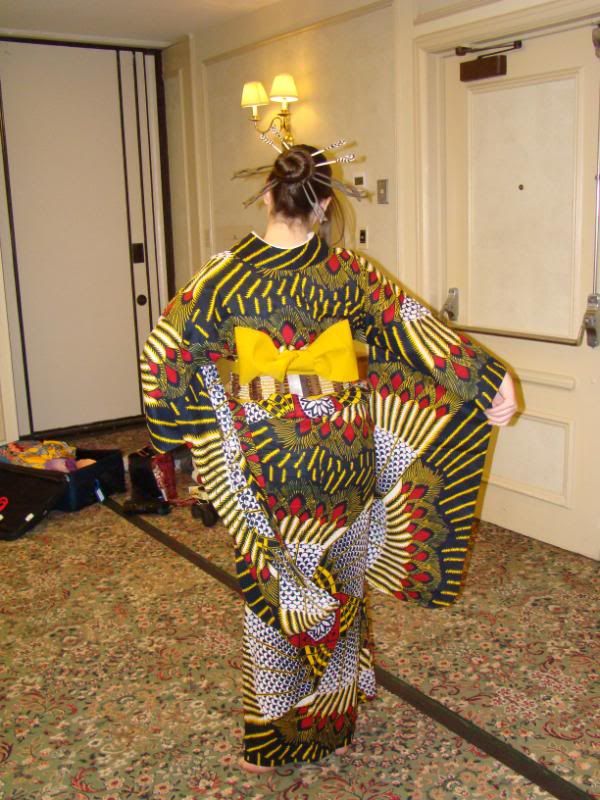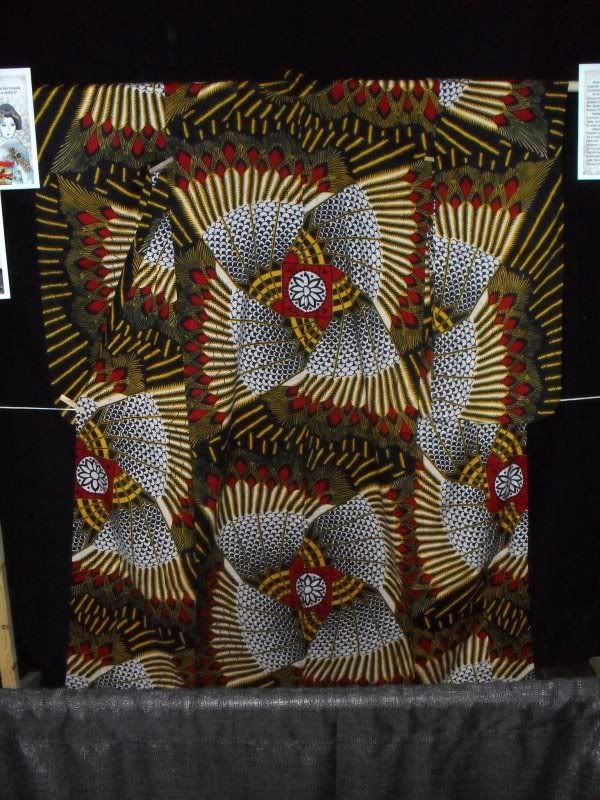 Wafrica yukata
This Yukata was made by the fashion show co-ordinator from fabric purchased in Angola and paired with accessories from Namibia
Zoom in and you can see her hair sticks have zebras on them.
I put up a before shot of the kimono and you can see how much accessories are really important top the look of an outfit.
I really liked that she added long sleeves to the casual style of the yukata, not to mention matching up the pattern so nicely.
The fashion line called WAfrica was created by car designer Serge Mouange. He travelled to Japan for car design work and thought of that putting African fabrics with Kimono would be an awesome idea. He had immigrated from Cameroon to France as a child. He got together with a Japanese kimono making company to create his WAfrica line
Here is his
Wafrica
site and some
pics
of
some
of his
kimono.
(The blue stripy one I wants, but it's designer so I will just dream about it.)
It's quite amazing the African fabrics and Japanese kimono work so well together. I can't seem to identify what is it about these two things that seem to work so well? Also how do these fit into rules of when to wear them? Do they count as geometric designs? I am a bit surprised no one thought of putting these two things together before.
WAfrica, is a combination of Wafuku (traditional Japanese dress) and the continent of Africa.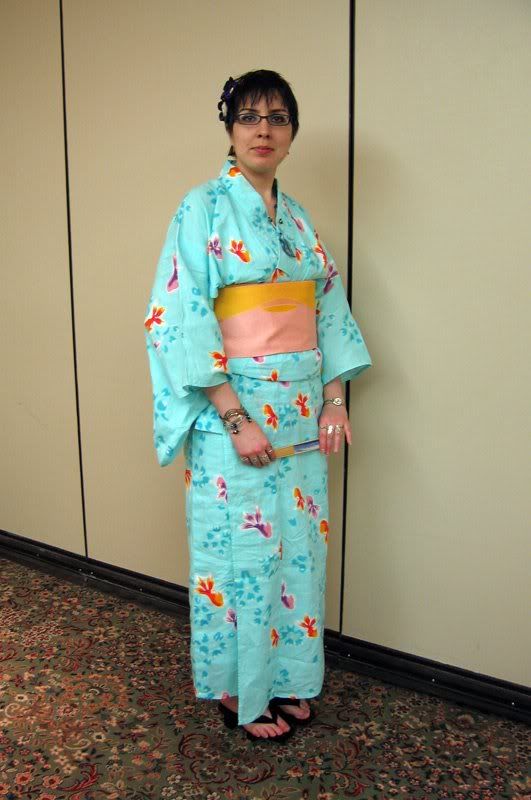 Yukata
A yukata is a light summer Kimono made out of cotton, with bright prints. It is the most casual of kimono. They originated from robes provided at hot springs. They are always unlined and always made of cotton. They are usually worn at summer festivals. If a person starts kimono collecting this is the type of kimono to start out with since it's the easiest to learn how to get dressed.
In countless anime series whenever there is a summer festival there is a scene where the boy(s) see the girls in their yukata looking pretty.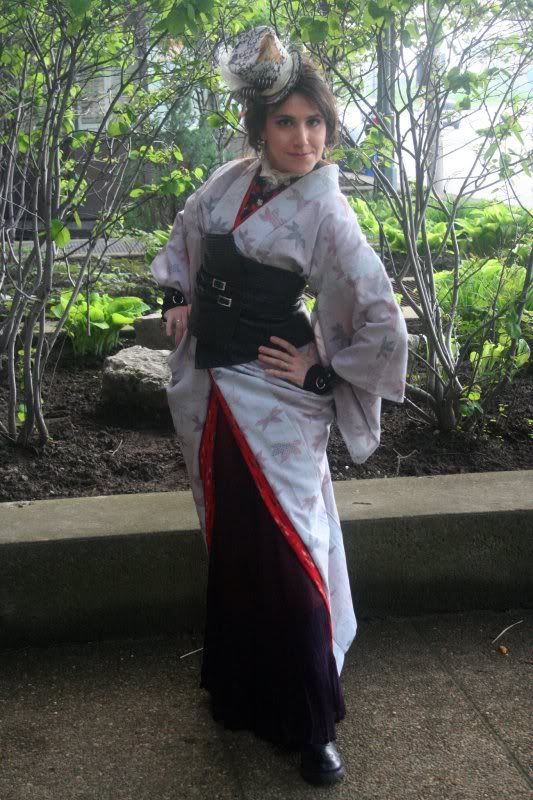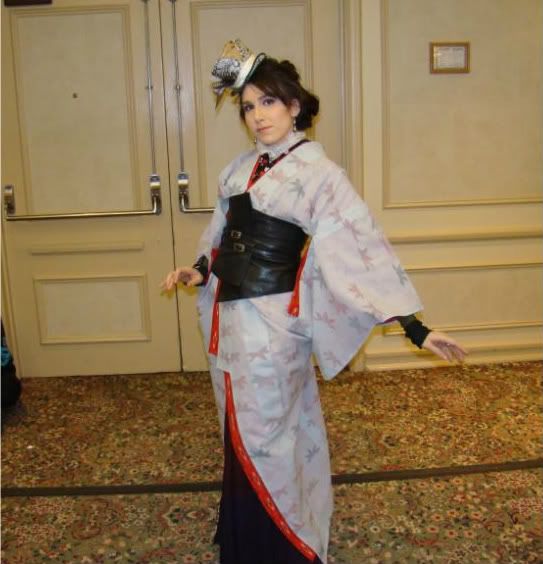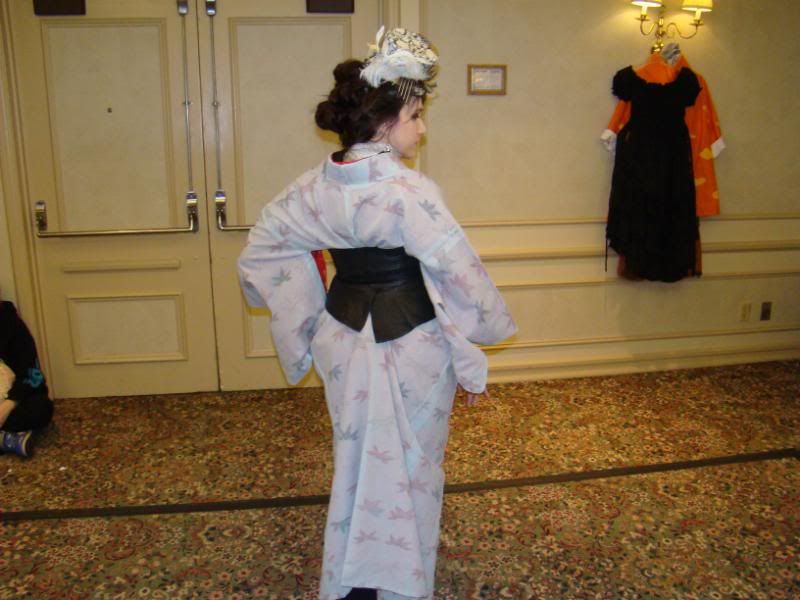 Steam punk
A kimono worn with steam punk elements. I really like this as it shows the flexibility of the kimono. I really like what she did with the different type of collars. Somehow it all works.
Model M also made flower kanzashi for the fashion show, here is her site:
http://www.etsy.com/shop/magpiecanada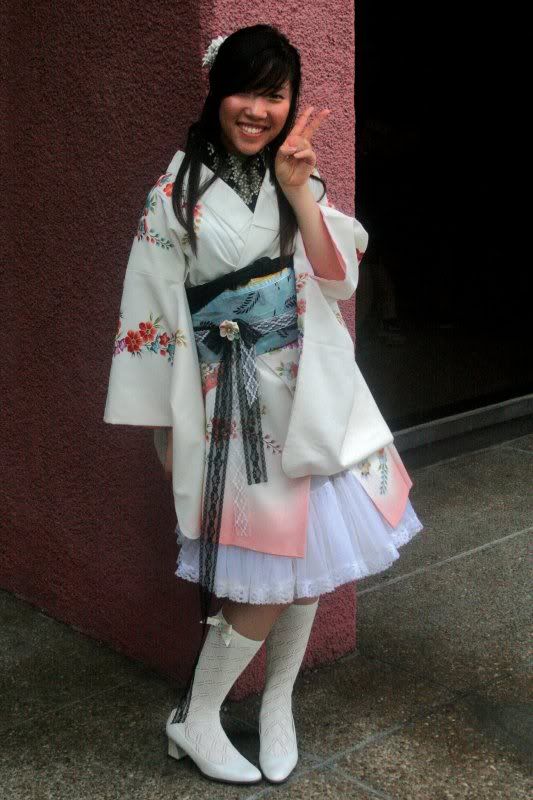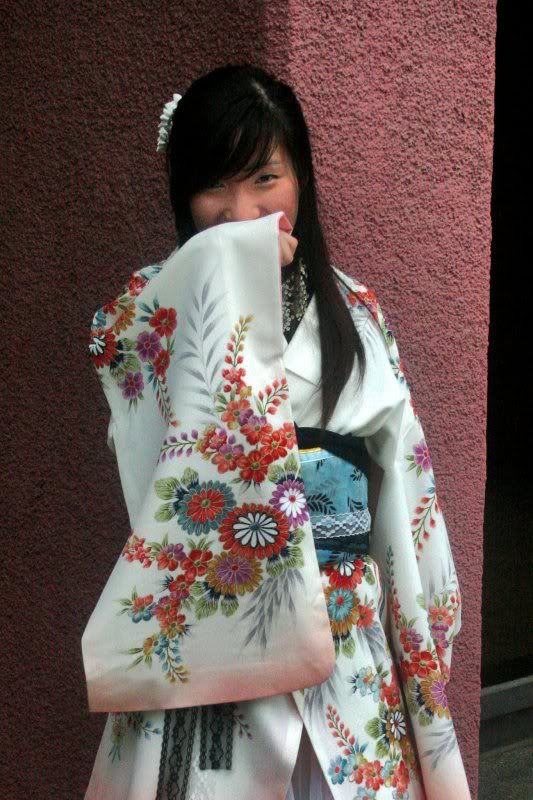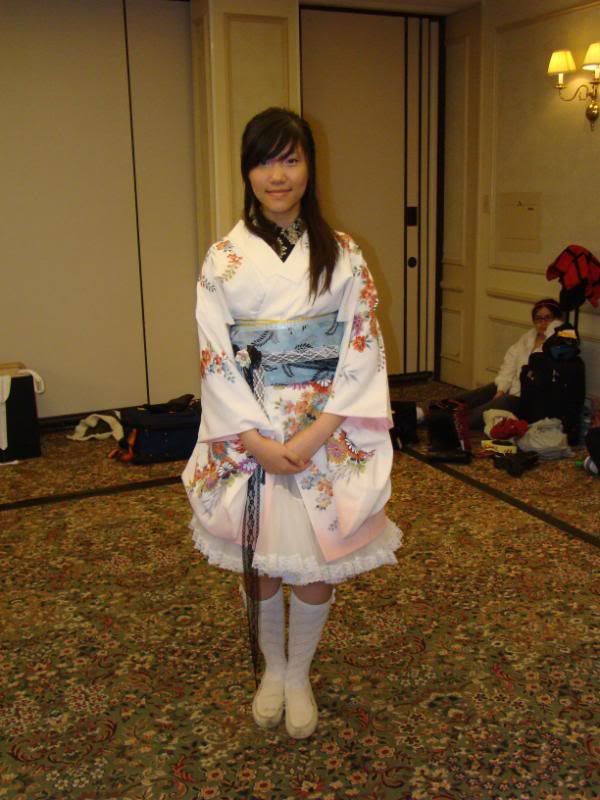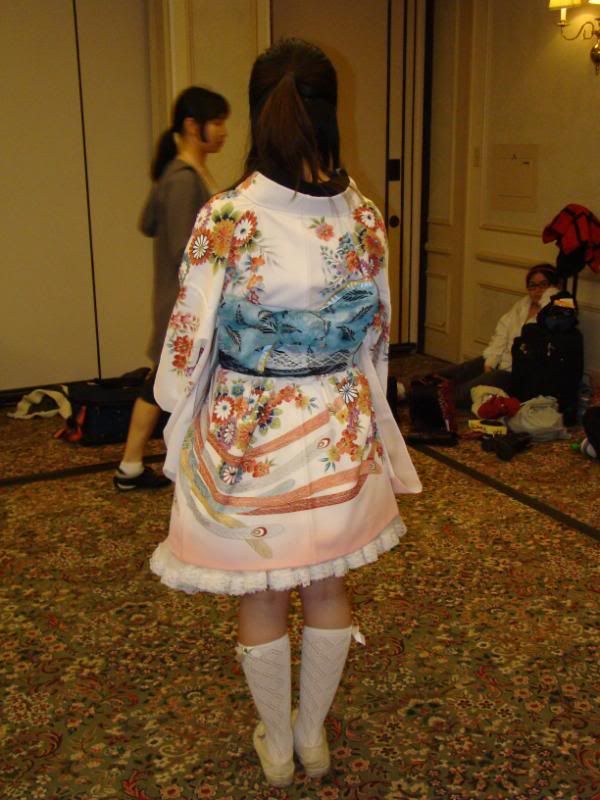 Wa Lolita
.
This outfit is a kimono styled to the Gothic Lolita style. This is a full Kimono that has been creatively folded to look shorter. There are several different types of Gothic Lolita styling and this is called Wa Lolita as it is a combination of Wafuku (Japanese traditional) and Gothic Lolita. Almost all Kimono actually fall to the floor, there are some designed to trail on the floor (like the some later models will have), but most Kimonos lengths are adjusted by a tuck at the waist. Lengths in kimono only become a big problem if a person is very tall. (Usually westerners)
This model is so cute!! (Kawaii!!!)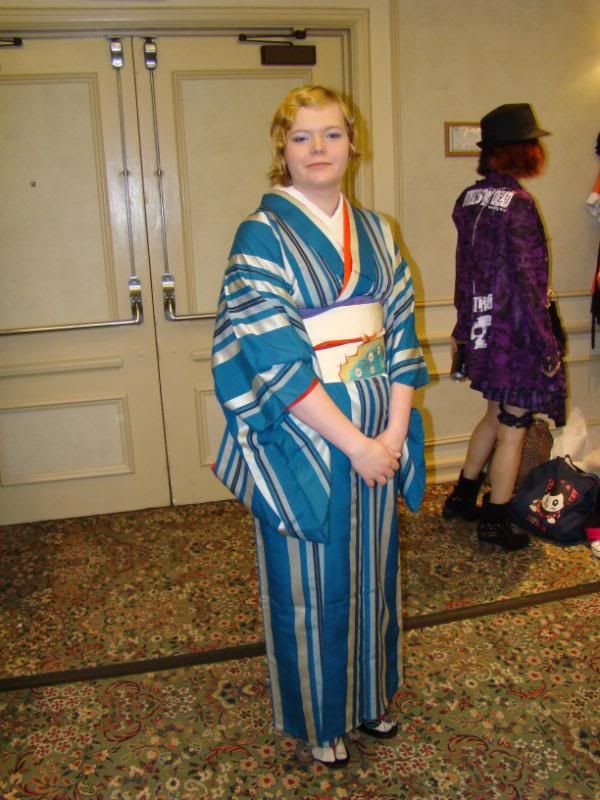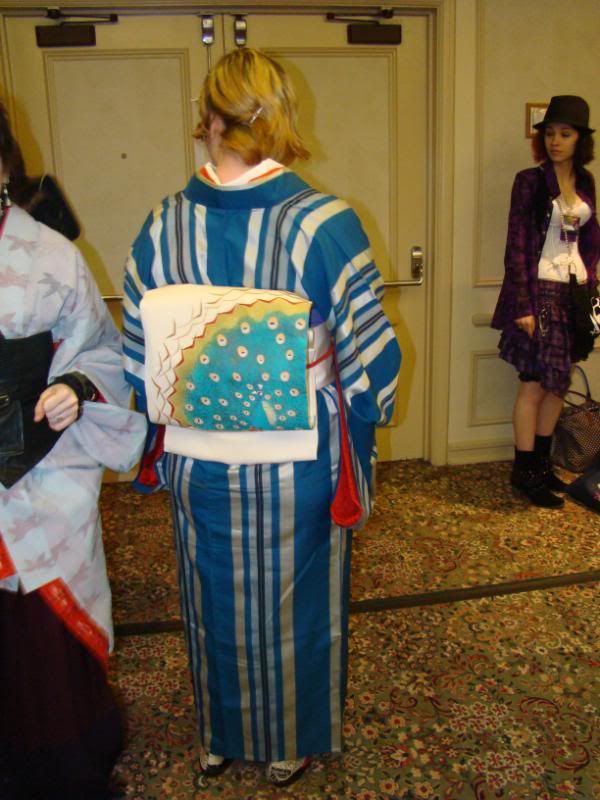 Taisho Roman
Kimono worn during the Taisho period (1912-1926)
Kimono had brighter colours, larger, bolder patterns and longer sleeve panels then today. These Kimonos are pre-WWII and when sold today they are cost more than the average used kimono, particularly if they are in excellent condition. (Taisho styling is so cool!!) This was near the end of the time, when kimono was daily dress for most women. Men had been moved to western fashions at this point, since men went out and worked and women stayed home. Western clothing had slowly been coming in, since Japan had been forced to open after several centuries of being closed to foreigners. Western clothing was used in business and work. As western clothes were quite practical for factory work. (There are several cool historical photos of families in kimono and the man of the house in Western accessories. Even bath towels used as accessories. They took whatever western fashions they could get.)
I found a vintage family pic
here
I find it interesting that the fashion of the 1920's was just as cool and interesting as fashion in the west during the 1920's, and still had the 20's "vibe", even though it's Eastern fashion.